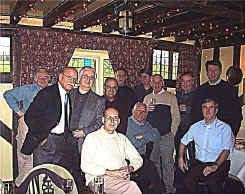 Welcome
Nhagii is for those, now retired, who have worked within or with the Ford of Europe Systems Office or its successor organisations, Process Leadership and Information Technology. Nhagii stands for 'Now here's a good idea–international' but is otherwise a meaningless word.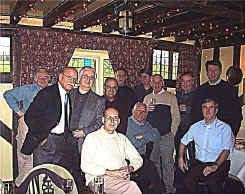 Nhagii was established in 2002 by a group of enthusiastic drinkers at the Bell Inn at Woodham Walter, as the photograph here shows.
It continues to arrange regular lunches in Essex and occasional trips around Europe. Join us if you qualify and are still mobile.